Proud of our Heritage.
Passionate about our Future.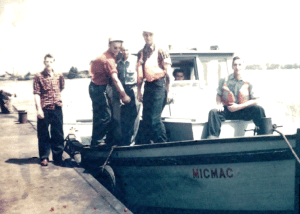 We trace our roots of entrepreneurship and honest, hard work back to founder Evans McKeil, who started the enterprise with a hand-built wooden boat used to support the building of the St. Lawrence Seaway in 1956. Over the next four decades, he grew McKeil Marine into one of the largest tug-and-barge operations on the Great Lakes and St. Lawrence Seaway.
In 1992, Evans' son, Blair, took over as president when challenging economic times required a dynamic new approach. Blair identified and pursued niche opportunities in marine salvage and complex marine construction and led the company into the field of marine project management and execution.
Around this time, McKeil recognized that the shallow drafts of our fleet and the vessels' load range of 9,000 to 15,000 metric tonnes were ideal for marine transportation of liquids and heavier cargo such as steel and aggregates.
By 2006, we had become the first marine company in Canada to operate an integrated tug-and-barge (ITB) system, having created a proprietary coupling based on the Bludworth Marine ATB system in order to achieve greater control and maneuverability.
We also added decks to barges, reinforced the vessels to accommodate heavier loads and further adapted the fleet to offer systems and processes normally used by larger ships and transport vessels.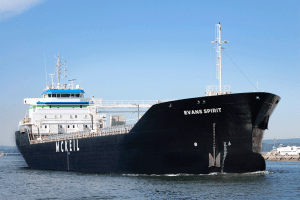 As a result of this ongoing entrepreneurial spirit and the recruitment of a professional management team, we achieved unprecedented growth and entered the bulk carrier market with our first ship, Evans Spirit, named after the company founder.
To facilitate continued growth, in October 2016, McKeil announced a new partnership with TorQuest Partners, one of Canada's largest private equity firms.  Taking the company into a new era, Steve Fletcher, a 17-year veteran of McKeil's management team, assumed the role of President and CEO.  Blair McKeil joined the Board of Directors as Vice Chairman.
TorQuest's investment in McKeil has strengthened our ability to invest in our crews, expand our fleet and better service a broader customer base.  Buoyed by this investment, McKeil purchased additional bulk carriers to grow the transportation fleet.
The year of 2019 marked further milestones. Scott Bravener came to the helm as President and we acquired our first modern ice class 1A chemical tanker to serve the needs of a new customer in the oil and gas industry.
One year later, our tanker fleet had expanded to four: two Canadian-flagged and two foreign-flagged vessels, with contracts to carry clean petroleum products.
McKeil is a full-service company with a sailing and shore-based crew of about 350 and offices in Ontario, New Brunswick and Newfoundland and Labrador.
Over the years, we've earned a strong reputation as the most dynamic, innovative and trusted marine solutions provider in the Canadian maritime industry, delivering turnkey solutions to support customers in a wide range of transportation and project challenges along the St. Lawrence Seaway, the East Coast, and Canadian Arctic.