McKeil Marine values the communities in which we live and work.
On a corporate level, we are proud to support two charities that align with our guiding principles:
Swim Drink Fish Canada is an organization committed to protecting and restoring water—the foundation of our business. Established as Lake Ontario Waterkeeper in 2001, Swim Drink Fish's programs now extend globally. Our support helps to ensure that the communities where we live, work and trade can depend on swimmable, drinkable, fishable water.
The Janeway Children's Hospital Foundation supports Newfoundland and Labrador's largest children's health and rehabilitation centre, a hospital associated with Memorial University. Many McKeil crew call Newfoundland and Labrador home. Many more completed their studies at Memorial.
McKeil Cares:
Through our McKeil Cares program, we focus on community development on our vessels, within our organization and in the broader communities where our crew live.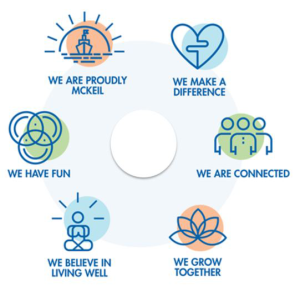 McKeil cares focuses on community development.In an industry that operates across great distances and requires extended periods of time away from home, we foster a healthy and connected workforce.
Annual crew meetings for fellowship and training, as well as our dedicated "crewmatters" communications channel, put sailing crew first. Comprehensive career development programs ensure shared success.
Crew wellbeing is supported by a family atmosphere aboard vessels. Weekly newsletters, seasonal mailings and crew care packages are just a few of the things that demonstrate McKeil Cares. At McKeil Marine, you are never just an employee number.
Our caring extends to the families at home with a variety of programs including annual birthday gifts for children, scholarship programs, private family Facebook group and much more.
Our sailing and shore-based crew are an extension of the McKeil philosophy of community engagement. Through our McKeil Cares Donation Match Program, we encourage crew to support community charities that matter to them.