McKeil Marine was awarded the Hamilton Chamber of Commerce's 2015 Outstanding Business Achievement Award in the Large Business category on March 8th at a dinner gala hosted by the Chamber.
Each year, the OBAA recognizes a business that makes an outstanding contribution to the Hamilton area and inspires others to excellence.
Nominees were graded on six criteria:  Entrepreneurship, High Standard of Employee Relations, Promotion of Hamilton outside the area, Excellence in Community Relations, Product Innovation, and Testimonials and Peer Reviews. A panel of six judges reviewed submissions and selected one winner in each category:  small business, medium business, and large business.
While Chairman and CEO Blair McKeil was on hand to proudly accept this award—backed  by a cheering squad from Hamilton's head office—he emphasized that,  "This award is for all of us and each of us. We are all McKeil. "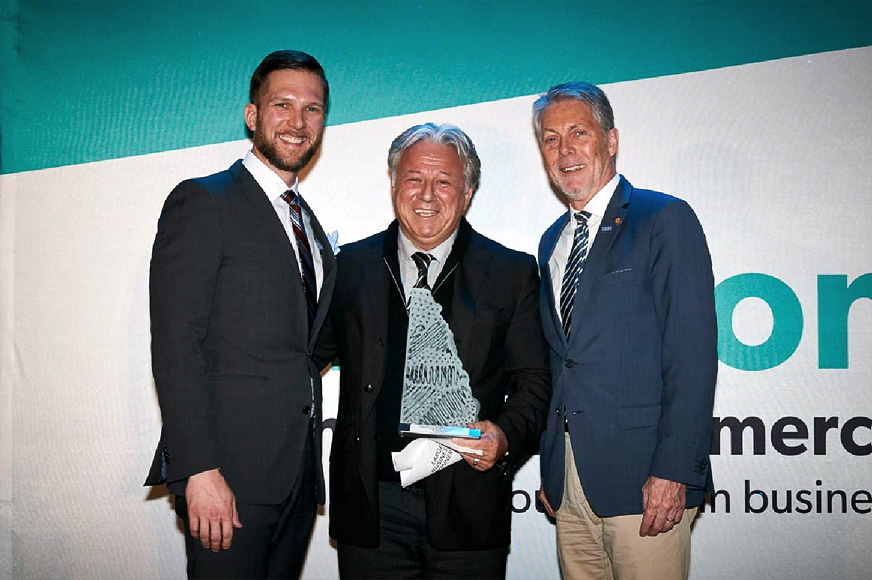 (Pictured above: Keanin Loomis, President  & CEO of Hamilton Chamber of Commerce; Blair McKeil, Chairman and CEO of McKeil Marine; and Mayor Fred Eisenberger, Mayor, City of Hamilton.)